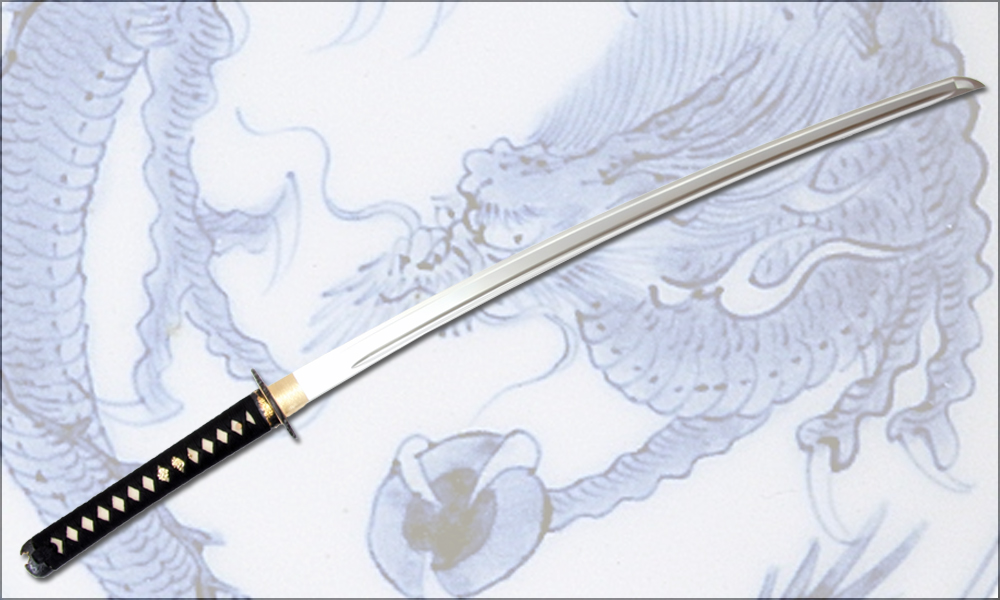 In Japan, various patterns involving the mythical creature of the dragon have been used since ancient times. In particular coiled dragons known as "Danryu" have been prized as patterns on items like plates and vases for the nobility since long ago. It is said dragons possess a mysterious power and are seen as the highest form of all animal patterns used in crafts. Particularly in China, dragons were held in such high regard that special treatment was given to the depiction of dragons – even down to small details like how many claws were able to be depicted on pottery.
This Iaito, by applying the motif of the noble "Danryu" dragon across its fittings, has been finished in a dignified manner.
A coiled dragon, Danryu, is featured on antique-style iron Tsuba. You also see another flying dragon in the sky on Fuchi-gane fitting.
A raging dragon on traditional Higo style rounded Tsuka-gashira.
Tsuka is carefully hand-wrapped with the cotton braid over white Tsukasame and the Sageo matches with the Tsuka color. Silk Tsuka wrapping/Sageo are also available.
Saya lacquer is available in Kuroro, Kuroishime and Chaishime. A sand-casted, a bubble-free zinc/aluminum alloy blade available up to 2.70 shaku.

Note about our blade:
Super-Light 'Keiryo Toshin' Blade – this is our brand new blade option, which make our famous Iaito blades lighter, and better balanced than ever before!!
Extra Deep Groove – This takes even more weight out of the blade, without compromising on strength, giving you the chance to create the lightest possible combination of options! Better still the Extra Deep Groove given an enhanced sound when travelling through the air, giving you fantastic feedback on your cuts and movements!
Note that selecting "Hyoujun" or "Habahiro" – for the blade option, will make the weight similar to the other Iaito swords in our range