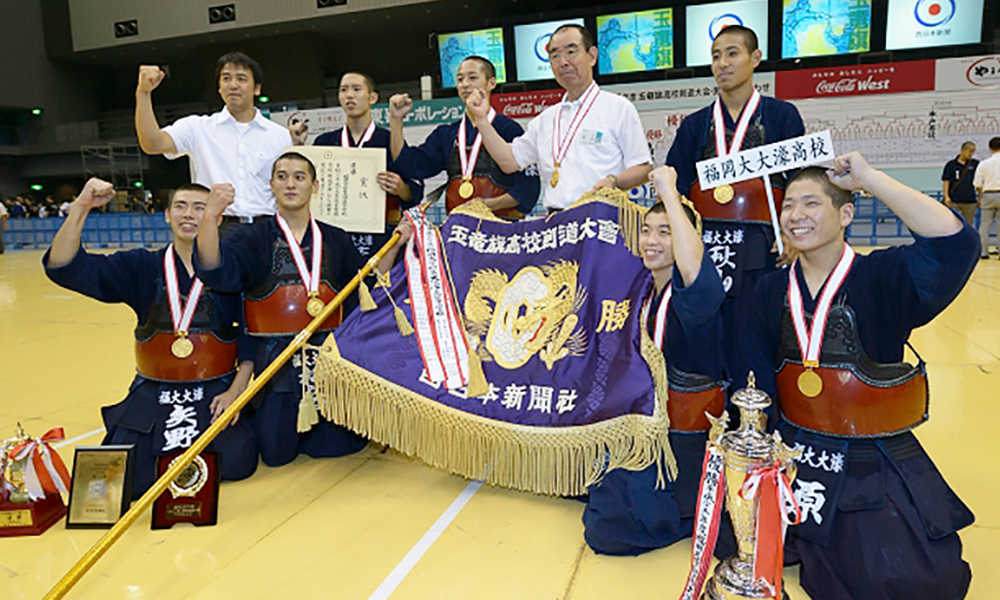 "Become a legend" Sho Umegaya Responds as he Beats 4 in a row at the Final (2013 Gyokuryuki High School Games)
The most interesting aspect of the Gyokuryuki Games is that it is held in the "fight until you lose" format. This means that no matter how much you are losing, you have a chance to turn the tables with the taisho running through the whole team.
So far there are 4 instances in which the taisho ran through all 4 of the opponent's team at the finals to lead his team to the crown. In 2013, Sho Umegaya of Fukuoka University Ohori High School repeated this feat for the first time in 37 years.
In the final with Takanawa (Tokyo), Takanawa's jiho, Ryodai Abe, had run through Ohori's jiho Sanshiro Hara, chuken Takayuki Yano, and Kosei Kayashima, bringing taisho Umegaya on rather early. Umegaya had beaten two in the semi-final with Ryukoku (Saga), and had already won 7 matches at this tournament. He came into this final match with 5 wins in a row in the taisho showdown matches.
"Go and be a legend!"
As Umegaya too stage with these words from the coach Sadamitsu Kuroki, he beat Abe, chuken Naoki Hirayama, and fukusho Shunsuke Kuroki, taking the match to a final showdown with taisho Yoichiro Sasaki.
The final match lasted 20 minutes, Umegaya had already fought for half an hour in this final with Takanawa, and he was getting leg cramps. But he managed to gather up all the strength he had to jump into his opponent to strike the men, and he surely became a legend as his coach had told him.
The coach Kuroki said, "We really won…", showing how unbelievable he felt about the feat.
In the Fukuoka preliminaries for the inter high, held in June the same year, Fukuoka University Ohori had lost to Fukuoka Daiichi in the first round. In the chuken match, Umegaya conceded an ippon, and as he tried to get one back he further conceded a kote and went on to lose. He said it was the hardest lost to take since beginning kendo, and practiced every day with the Gyokuryuki title as the next goal.
He wanted to master a skill that he did not have, so he apparently put a lot of time into practicing striking the men as the opponent begins his striking move.
"I thought that this was the only national title that was available for us to win, so we can all fight together, but no matter how tough a situation I'm win when it's my turn, I can win and take my lead my team to becoming the champion."
said Umegaya later.
Umegaya moved onto Chuo University, and became the All Japan Student Champion in his first year. Another year later, he entered the All Japan Championship at age 20, and achieved a very respectable 3rd place.