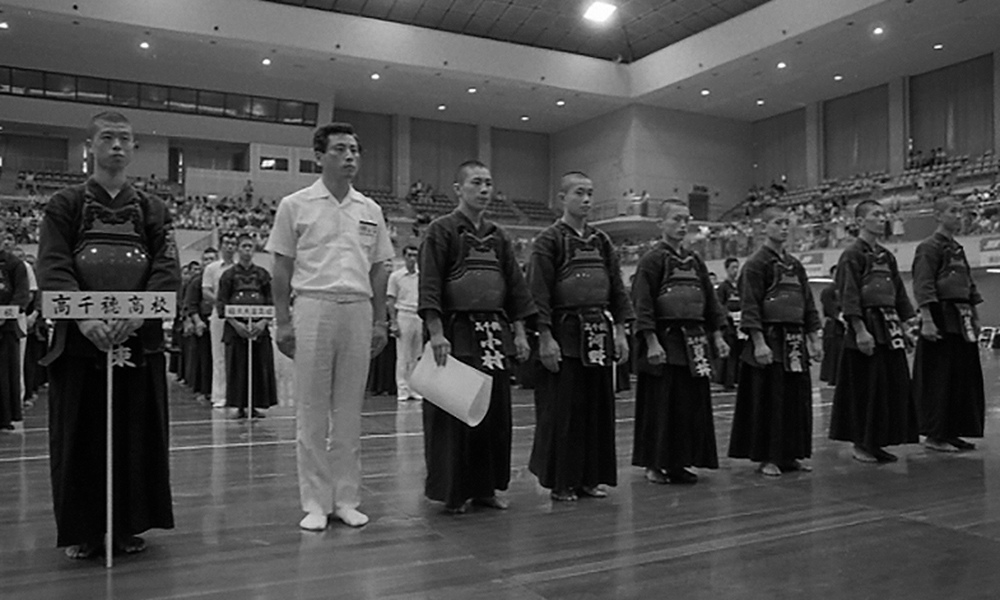 Victorious in Historical High School Kendo Rivalry
In 1986, PL Gakuen (Osaka) won the Gyokuryuki boys with fine performances from 2nd grader Takahiro Nabeyama. They were seeking back to back titles the following year with Nabeyama as their key player.
Facing PL in the final was Takachiho (Miyazaki), who had defeated PL in the final of the previous years inter-high boys, and also won the girls team tournament. PL had been struggled in their path to the final, as Nabeyama was called into action in 6th round.
In the quarter-final against Yatsushiro Higashi (Kumamoto), they managed to end to tie with their fukusho, Shinya Yamazaki, but in the semi-final against Fukuoka Ohori, Nabeyama was pull out to face their taisho, Nagahiro Kuwano. Nabeyama finished things off with a nihon win. Takachiho had their own share of struggles in the 4th round against Nishinihon Tandai Fuzoku (Fukuoka).
Takachiho's 2nd grade taisho Kono Yuichi was pulled out by the opponent's chuken, but Kono showed his strength by winning 3 in a row. The quarter-final against traditional powerhouse Nagasaki Higashi went to the taisho decider too, with Kono claiming a nihon win. They won the semi-final with chuken Toru Yamaguchi drawing with the taisho from Nanchiku.
The final began cautiously as the first two rounds ended in draws. The chuken match was won by PL's Hiroshi Shimonishi, who went on to defeat Takachiho's fukusho too, dragging out taisho Kono early on. But Kono first defeated Shimonishi with a degote and a hikimen. Next, facing fukusho Yamazaki, Kono drew first blood with a hikigote, and after Yamazaki got even with a kote, he finished things off with a hikido to set up the final match with Nabeyama.
Nabeyama was considered to be rather off form, but he struck the men first to take the lead. But Kono did not given in and returned a men. As the battle become more intense, Nabeyama tried for a kote but Kono saw it and struck the kote instead. In the previous year, Nabeyama claimed 3 straight wins in the final, but Kono replicated that feat by defeating Nabeyama himself.
Rivalry between the two players, who are one year apart, continued on the inter-high stage. In the individual tournament final, Nabayama faced Kono and won with a spectacular men strike. PL Gakuen restored honors by winning both the boys and girls team tournament, just like Takachiho did a year ago. With Nabeyama gone a year later, Takachiho won back to back Gyokuryuki titles without needing to use Kono.
Takachiho is known for being the place where the descendants of the Sun Goddess in Japanese mythology. Kendo has been popular in this area since long ago, and in 1957 Takachiho high school took the Gyokuryuki flag out of Fukuoka prefecture for the first time post-war. Since then the school had went through a period of little success, but head coach Masami Yoshimoto took the reigns in 1971 and managed to instigate a revival.
He aspired to some older coaches like Kimiyoshi Inoue (Yatsushiro Higashi), and took initiative to buy a bus for the kendo club so they could take more trips to play other strong schools. He managed to train his players well, and the school won the first Gyokuryuki girls title in 1979.
Later in 1991, boasting players such as Hiromitsu Sato (12th Individual World Champion), Takachiho won their 4th Gyokuryuki boys title. Yoshimoto passed away early at age 50, but his legacy lived on as Takachiho has since won the Gyokuryuki title 4 times (including girls).