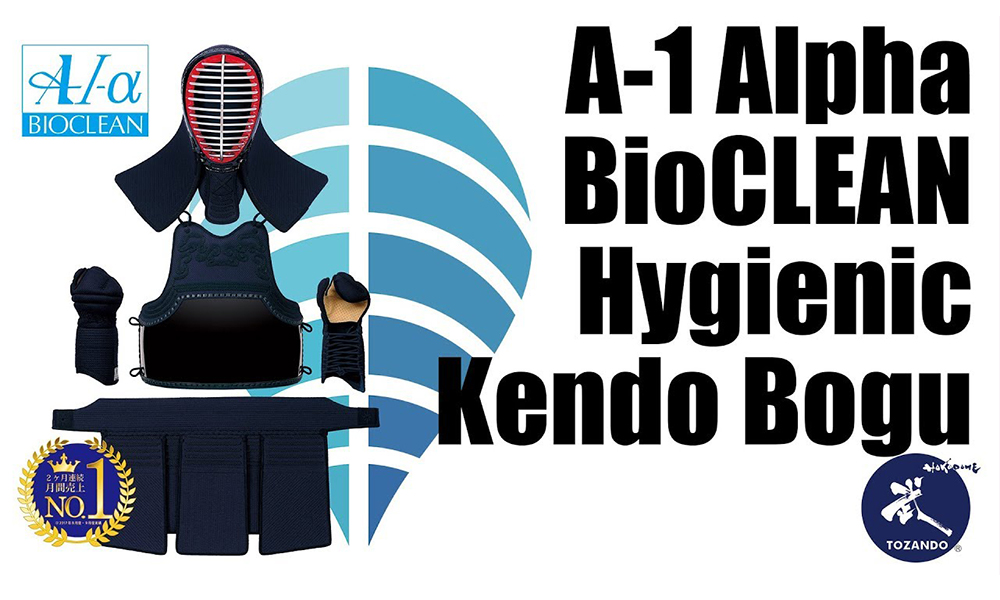 A-1 Alpha picks up from where our A-1 leaves off.
Light, easy to use and optimized for training These are the concepts that the legendary A-1 Series Bogu were built upon. As a collaboration between Tozando and Kanagawa Hakkodo, the A-1 concept was further refined and the new A-1 Alpha Bogu was born
You will find the signature diagonal cut the Menndare and O-dare. O-dare also feature diagonal stitching, as the men does. This allows for unique look, beautiful shaping, as well as unimpeded movements.
The A-1 Alpha Bogu uses a new type of padding that has been developed using the joint knowledge of Tozando and Kanagawa Hakkodo to make even softer and better fitting Men, Kote and Tare.
BioCLEAN: Hygienic and Anti-bacterial
Going even further, this Bogu is made with a completely new material. Tet-knit is a highly breathable, lightweight and soft fabric. Synthetic, it is sturdy and washable, the aspect is almost indistinguishable from ordinary Bogu fabric. And as if it was not enough: no bleeding and blue hands at the end of training!
Then, in strategic points, BioCLEAN lining has been added. Inside the men, the kote, and the tare belt. With this anti-odor, antibacterial material, no more "stinky" Bogu full of germs.
The Menngane gets also BioCLEAN treatment, with antibacterial coating on the 4 lower bars.
Natural ions nip fungus in the bud Bioclean material is entirely coated in natural ions and any unpleasant odors are suppressed. The Kendo Bogu absorbs plenty of sweat, and this inevitably breeds fungus that emits bad smells.
The BioCLEAN Bogu makes use of natural ions diffused throughout its material to prevent odors, resulting in a superior antimicrobial efficacy when compared to more conventional antimicrobial processing.The bogu's inner area that comes into direct contact with the body is thoroughly layered with BioCLEAN lining material. We've treated all the parts that comes into contact with your skin.
The legacy of A-1 series
A-1 is a legendary Bogu brand by Kanagawa Hakkodo, enjoying high popularity among Japanese Kendoka for it's high quality and great fit. In fact, the A-1 is well known and used by most All Japan level Kendoka in Japan, including many current and past champions of the All Japan Kendo Championship and World Kendo Championship.
It's even said that the light and flexible A-1 Bogu is the sign of a winner. Not only is it a Bogu that is good for competition, but it's also great for your everyday Keiko thanks to it's great durability and lightness.
A-1 will without doubt solve any problems you have with your current Bogu, being the no.1 in customer satisfaction.
Try out the A-1 Alpha Bogu, a collaboration between Tozando and Kanagawa Hakkodo, you will never regret it!
IBB Safety Guard: Safe Kendo
A removable throat protector that follows your every single head movement. The ISG (IBB Safety Guard) will protect your throat from shock to the thyroid cartilage and injury to the carotid artery, when receiving even the most severe Tsuki. Since you don't have to be afraid of the sword tip, you can charge in and aim for the Men with high precision.