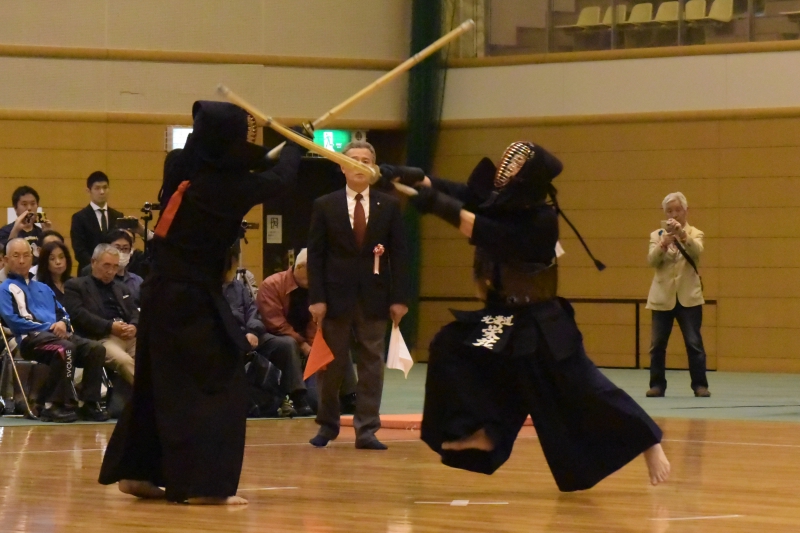 This year's 8-dan Invitational was billed to be an eventful affair and it did not dissapoint. This time, six new challengers took their first steps on to the stage to try for the title. Alongside these, were noted kendoka who had fought for Japan at the World Championships such as Takahashi Sensei from Kyoto, Miyazaki F. Sensei from Shinagawa and Eiga Sensei from Hokkaido.
Takahashi Sensei was thought to have met Miyazaki Sensei in the second round, but he was ambushed by Okayama's Takeuchi Sensei, a fantastic start to his debut. Takeuchi Sensei would then go on to defeat the previous All Japan Championship competitor Miyazaki Sensei and also five-times competitor in this tournament Yamazaki Sensei of Aichi, so as to proceed to the semi finals.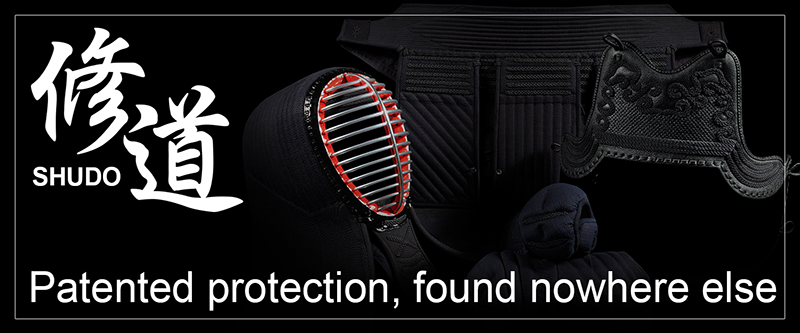 Takeuchi Sensei, who works for his local board of education and is an instructor at Youtokukan Dojo had gathered an impressive tournament record already. Outside of his four appearances in the All Japan East-West Tournament, where his team came 3rd in the nation, his team also won the All Japan Prefectural Championships. This veteran, who has competed on the world stage and at the All Japan Championships, looked set to storm through this tournament and was a superb highlight.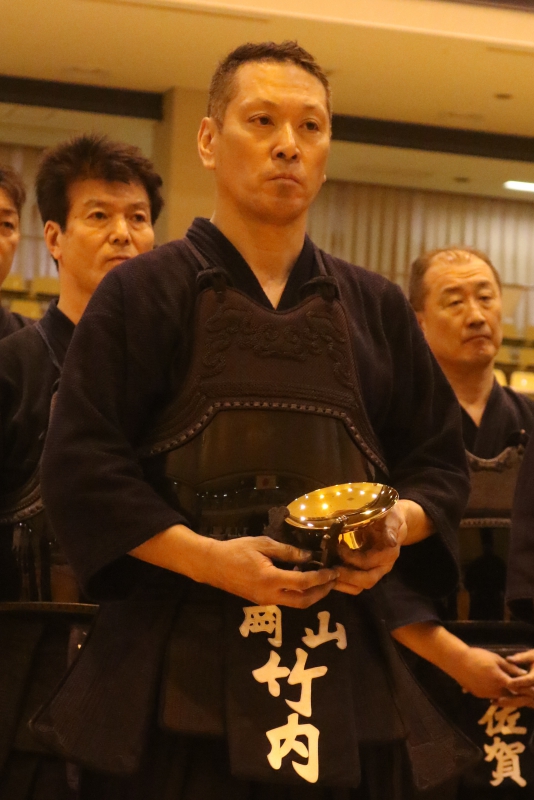 There were many other candidates tipped for victory this year. Tokyo's Onda Sensei, who won last year's tournament upon his first appearance, looked ready to make his mark again. Two times consecutive winner and kendo legend Miyazaki M. Sensei (also from Kanagawa) was also setting his sights on the title. Gunma's Tani Sensei, who won seven years prior and was second the year before last, was also in attendance. Finally, having gotten 3rd two years ago and the victor in Tokyo's Tomohitoshino 8-dan Tournament, Kurita Sensei looked to make a claim aswell.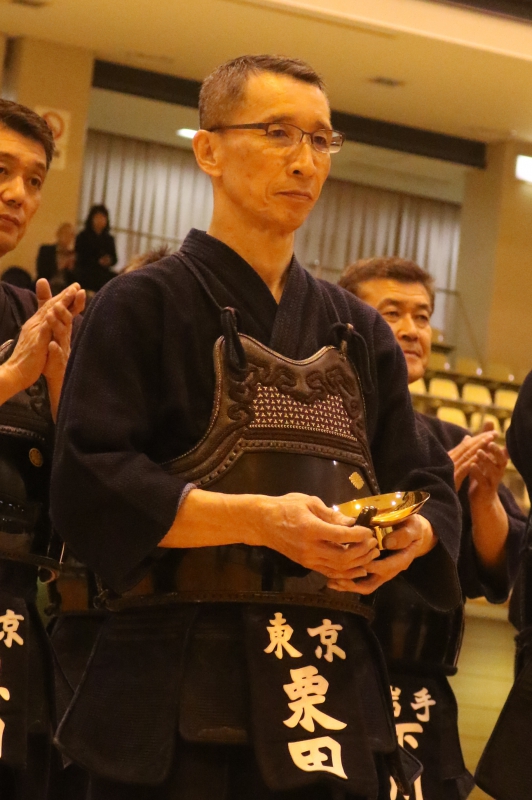 Kanagawa's Miyazaki M. Sensei would face Osaka's jodanka Yamamoto Sensei in the first round. Though the match was on the verge of finishing, Miyazaki defeated Yamamoto with a single men. In the second round he would concede two men strikes to Tani Sensei who was displaying his presence. Tani would go on to be defeated by Kurita Sensei, who had faced last year's third runner up Miyato Sensei of Wakayama in the first round. After, Kurita matched up against Aichi's Okochi Sensei, his fifth showing in this tournament and well known for his forceful men waza, after a long struggle it was decided by Kurita's do strike.
Meanwhile, Onda Sensei made his way through defeating Kiyota Sensei of Fukuoka after a long struggle. His second round was against Chiba's Someya Sensei, this was decided by a single kote in Onda's favour. Though his characteristic all or nothing kendo style that had seen him to victory last year was yet to be displayed, Onda Sensei advanced to the top eight.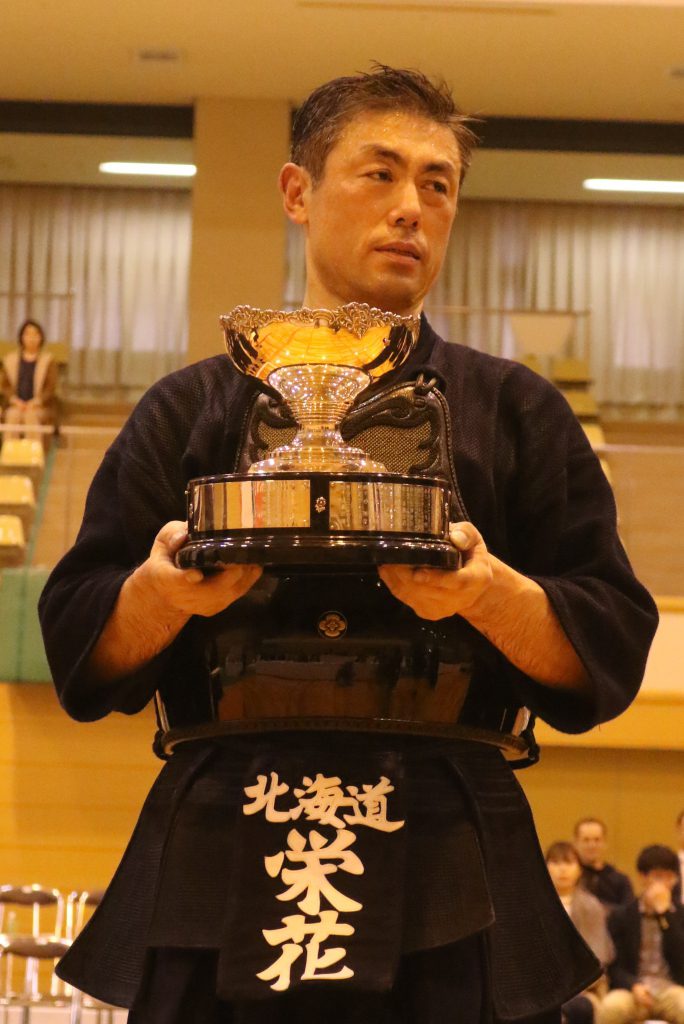 The person that stood in Onda's way was none other than the debuting Eiga Sensei. In the first round Eiga competed against the formidable Sakata of Yamanashi. Sakata is renowned for his long matches where he prevents his opponent from finding a way in, but Eiga broke through this firm defence to deliver two conclusive men. In the second stage he would face fellow World Championship representative Hirano Sensei of Tokushima, here he delivered a single men strike to defeat his opponent. Finally Eiga and Onda would meet in the quarter finals. Here as well, Eiga would display two strong and definitive men strikes, expelling last year's victor from the competition.
The top four competitors were the debuting Takeuchi and Eiga alongside five times entrants Kurita Sensei and as expected Kanagawa's tenacious Matsumoto Sensei. A contemporary of Kanagawa's Miyazaki Sensei and often in his shadow, despite appearing at the World Championships twice – in fact he lost to Miyazaki three years ago and took second place in this tournament. This time he lit up the shiaijo with his calm and superb kendo. He won his first and second rounds with a single ippon against Tokyo's Sato Sensei and Hokkaido's Saga Sensei respectively. To make his way into the semi-finals he competed against Chiba's Hayashi Sensei, after a long struggle dispatching him with a do.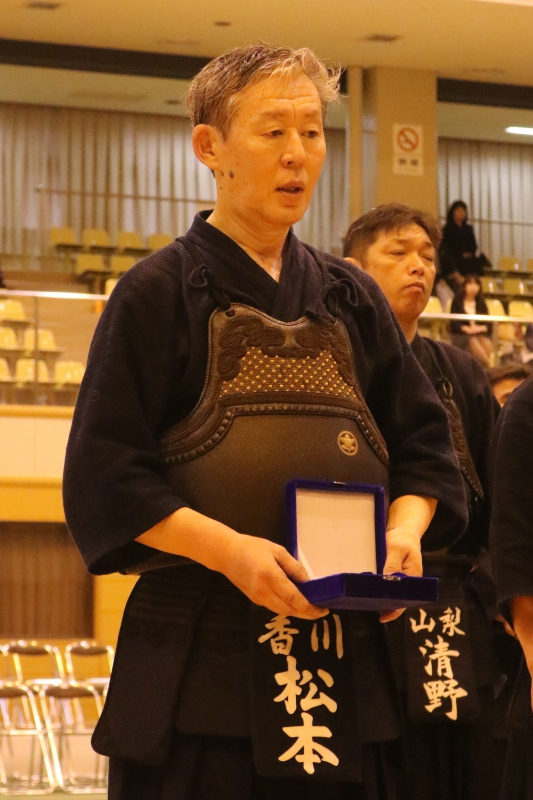 The first semi-final would see both debut entrants face each other. Having seen the path to victory Takeuchi Sensei spent all of his might in challenging Eiga Sensei. Yet, Eiga would decide the match with a Men followed quickly by a Kote, securing himself a place in the final. Meanwhile, the two veterans of this tournament Matsumoto and Kurita faced each other. This match was decided by Matsumoto's kaeshi-do in response to Kurita's men.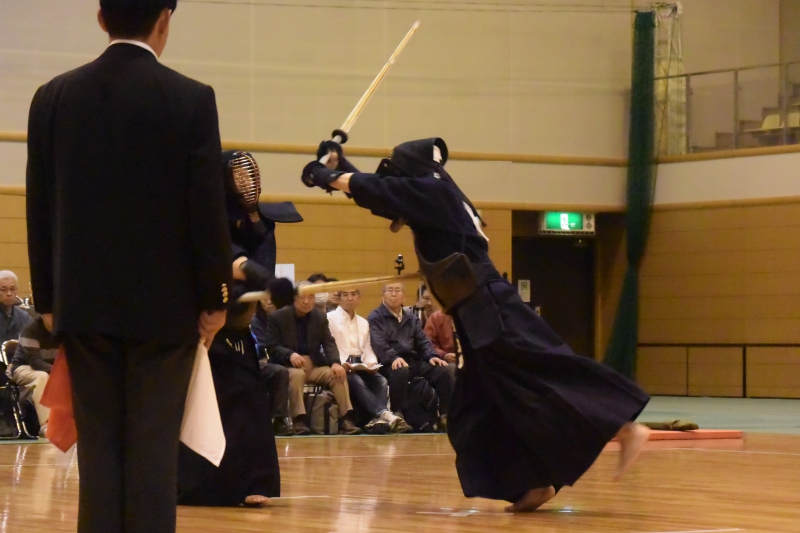 The final needed approximately 25 minutes to see a conclusion, becoming a drawn-out match. The moves against each other were few, each combatant unable to disrupt their partner enough to create an opening. The match continued with them pressuring each other from distance, fighting at the kensen. In particular, Matsumoto Sensei seemed to find it difficult to create an opportunity to strike. In this match that had become a battle of wills, Eiga finally managed to unleash a flying men outside of Matsumoto's defensive timing.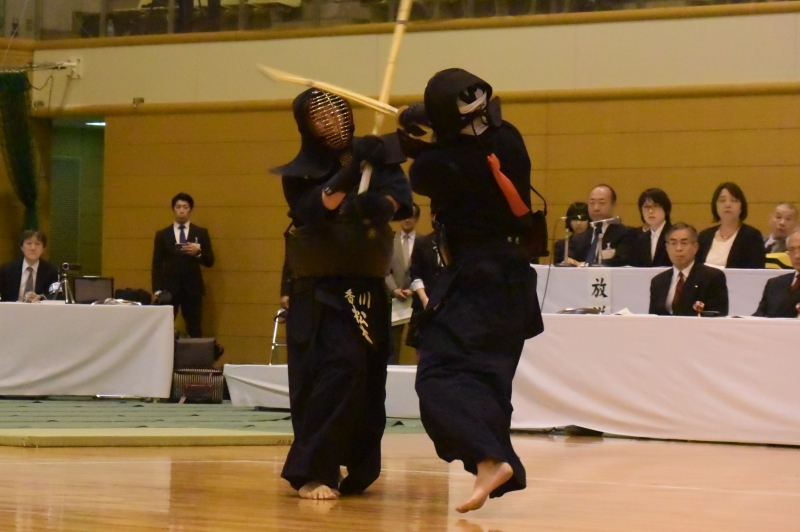 Eiga Sensei has displayed some absolutely fantastic Kendo recently: the years before last's All Japan East West Tournament and last year's All Japan Prefectural Championships to name, but two instances. This year was not only his debut, but he was also the youngest participant; from the first round it was obvious he was displaying a whole different level of kendo above 7-dan. He embodied what it is to be 8-dan and as he displayed his swordsmanship even his senior contemporaries began to fade away. Using both his mind and body to its fullest potential he truly earned this victory.