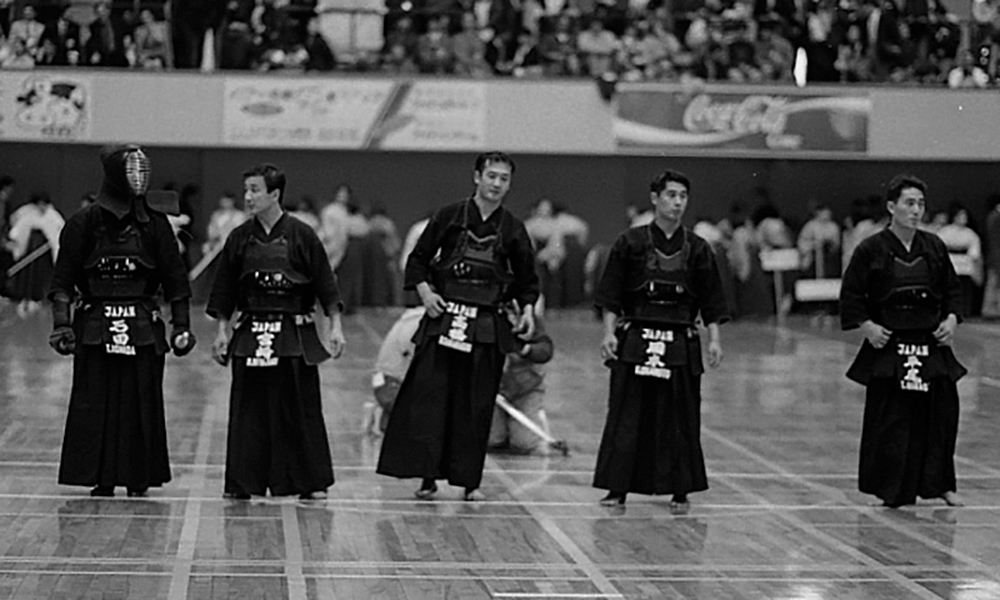 The World Championship was held in Japan – the first time in 6 editions and 18 years. The 10th World Championship at Kyoto was the beginning of the fierce rivalry between Japan and South Korea. For the first time in the history of the competition, the team games were divided in to Division 1 and Division 2. The final of Division 1 saw Japan and Korea fight for the crown for the 4th time in as many editions. This time, Japan surrendered the lead to Korea for the very first time in history, generating a tense, hitherto unknown atmosphere in the arena. 
The sempo, Yasushi Hirao (Tokyo Met,) and jiho, Kazuaki Okamoto (Tokyo Met.) drew with their respective Korean opponents after matches with prolonged period of both swords pushing against each other. The chuken, Hideaki Takahashi, faced Korean ace Kim Kyung Nam who had achieved 3rd place in the individuals in the two previous editions. Kim had played as fukusho in previous matches but moved into chuken this time round. Kim first gained men from Takahashi, and after continuously pushing swords against each other, gets the flag up for a hiki-men. 0-1 to Korea, with Korea gaining a nihon win. This is when fukusho Masahiro Miyazaki (Kanagawa pol.) took over. His opponent was Park San Seob, who had lost to Miyazaki in the individuals but took him to extra time. He may have been brought into this role to try and get a draw.
Miyazaki first gained hiki-men. From thereon he was on fire. You could tell from his body language that he was absolutely determined to get the second. He kept bringing out move after move to attack Park. As time was running out, he finally gained a hiki-gote. In an interview years later, Miyazaki said "I knew I had to get nihon".
Even with an ippon win, if taisho Ishida Toshiya (Osaka pol.) were to win, Japan would have won. Ishida actually claimed a nihon win, but for the flow of the whole match, it was a situation where Japan had to get back to even. Miyazaki, who was known as a tactical player, showed his instincts in that match.
The way he threw everything in order to get the second was truly inspiring. It was the moment where the legendary kenshi, who won the All Japan Championship 6 times, showed his true value. There are no ifs in such games, but had Miyazaki only gained an ippon win, or if the fukusho and taisho weren't the legendary Miyazaki and Ishida, who knows what would have happened?
In the end, Ishida claimed a glorious hiki-men, and Japan won 2(4)-1(2). Takahashi, who had been watching these two sempai play all along, took on the taisho role in the next World Championship, and brought victory to Japan.