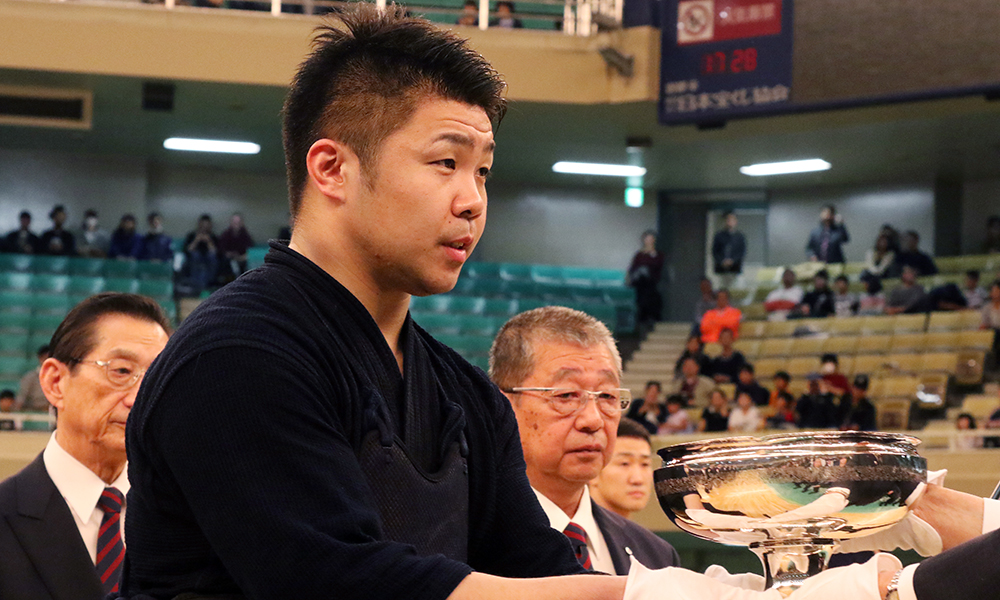 "You need to struggle more" – I was able to enjoy the match because of these words
Champion: Hidehisa Nishimura (Kumamoto, Kumamoto Police, 29)
Nishimura, who had won the tournament last year, claim consecutive wins making it a total of 3 titles. 3 wins at the All Japan Championship is only surpassed by Masahiro Miyazaki's 6-time feat, and is tied with Hitoshi Chiba, Kiyonori Nishikawa, and Ryoichi Nishimura. He is also the third player to win back-to-back tournaments, joining Miyazaki (twice) and Susumu Takanabe.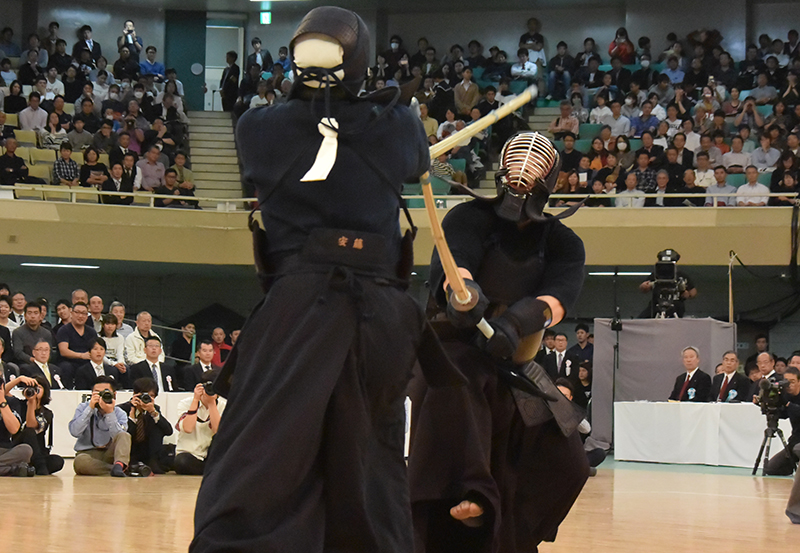 — Tell us how you feel after the win.
It was a tough year, so I'm happy that the last match ended the way it did. This year I really felt like there were so many people supporting me, so I think it is quite moving that I was able to win like this. I hope I was able to repay all that support.
–What made it feel like a tough year?
For one, I was constantly playing matches. Also, I really wanted to win the World Championship, but I couldn't win in the individuals, and wasn't able to contribute in the team games either. The Japanese national team wanted to string together some ippons to win to team games, but I let the team down. Things got tougher after that, and I was unable to think how to spend the next year as last year's winner, so it was good that I was able to put that all to rest at this last match.
–How did you recover mentally from the World Championship to this tournament?
Honestly I was nearly buckling down under pressure, but I called Yoneda (Toshiro) Sensei at Kyushu Gakuin to talk to him. He said "feel the pressure even more; you need to struggle more". After that, all the struggles went away. I realized that I was cracking under pressure because I was running away from it. After that I was able to put more pressure on myself, and that is what I think I was able to enjoy this tournament in good spirits.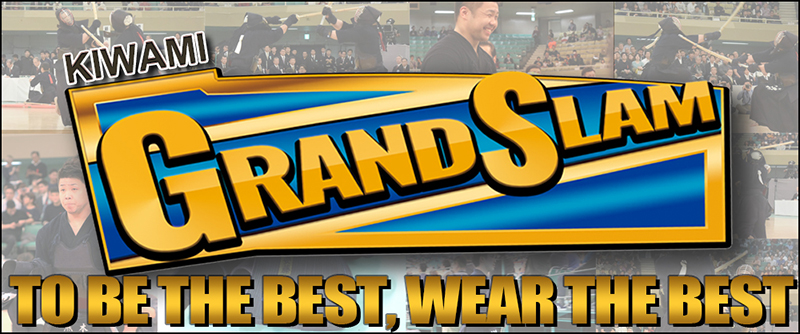 –Do you often call Yoneda Sensei when you are struggling?
Yes. This year I really felt how lucky I am to have people like that around me. I am really thankful for people like Yoneda Sensei who understands where I am at mentally and can say things like that.
–After the match you called Yoneda Sensei. What did he say?
He said "congratulations". I called him before the (final) match too, and he said "you have already climbed over one, so go out there and believe in yourself." I almost cried even before the match. I wondered what would happen, but I got this result, and so I called him just now, and he was thrilled. I am very thankful.
–It's your third win, and back-to-back wins. You are the third person to achieve back-to-back wins. This is historical.
I am grateful to that, but I don't really feel the sense of it being historical. Last time I thought I should try for back-to-back wins, and I lost. This time I was really conscious of winning back-to-back all year, and that is why I felt so much pressure. I never knew how to fight it or spend time under it or deal with it. The Yoneda Sensei, who has experienced back-to-back wins many times at Kyushu Gakuein, said this. "Your struggle is evidence that you are working hard toward back-to-back titles." I totally understood what he meant, and thought I need to struggle even more. I think I was actually running away. So I really think Yoneda Sensei gave me a great word.
–How did you approach the match, which was against a fellow national team member?
I really wanted to win, but I always try to play in a state of mindlessness. I feel that is the best way to play my own kendo. I tried to remain mindless and not think anything, just follow on as my body moved naturally. I think that paid off.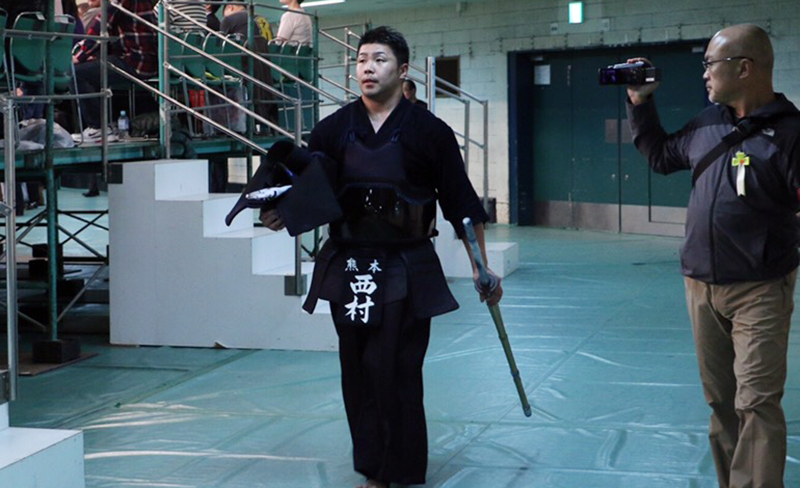 –From the quarter-final, the matches were 10 minutes long. Did you have any plans for the long match?
As you play a match, sometimes you feeling like it gets tough as the matches become longer, but because you are facing pressure every day, sometimes you feel like there is another "you" that says "I can still go on" during match time. I think that was the case today.
–What do you think of Uchimura, your opponent in the final?
I only have admiration for him. He works his way to the final even at that age. When he concedes an ippon, he gets it back immediately. You can really see the way he lives, his character in those moments. He is a senpai I respect.
–And you have defeated him again, same as last year.
It just happened that way. He's my senpai at Kyushi Gakuin, and that is huge for me. I can really go at him with everything I have. So that is why I think it has gone well.
To be continued to next volume