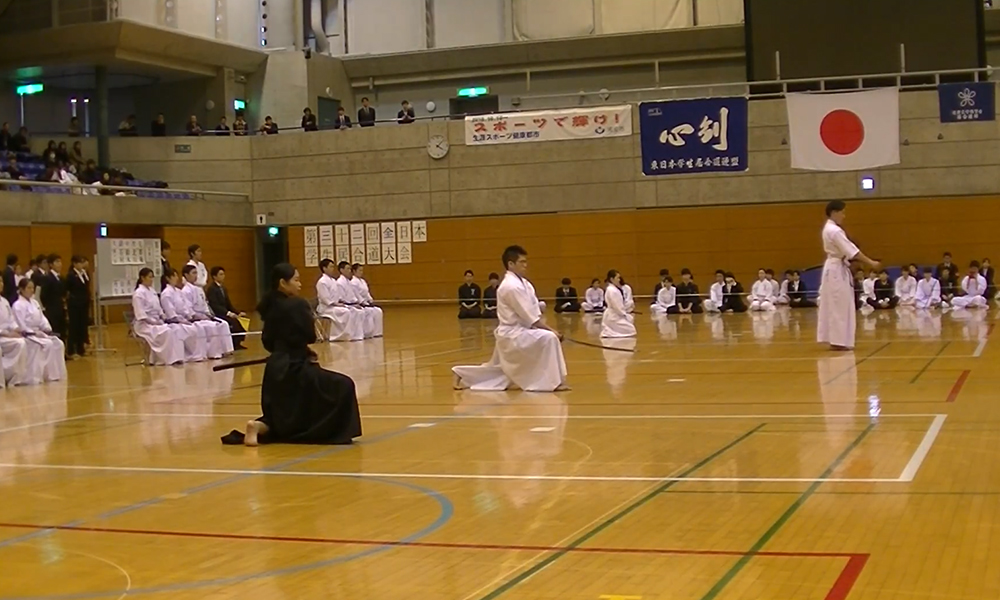 In America, the College Football league is hugely popular. Michigan University boasted an average of 100,000 spectators per match in 2017. In English, rugby is famous as a university sport.
Japanese universities are also known for their sporting achievements, and that is the same with martial arts. When it comes to judo or kendo, the performance during their years at university will have an effect and their employment after graduation.
Iaido, which is beginning to spread around the world, also receives a certain budget from universities and players compete under the university brand as a sport (although of course not at the same scale as American football or rugby) and sometimes as university circles. It is practiced very fervently nationwide.
The university iaido clubs in Japan are gradually gaining more influence in the iaido world, and are going to be the key for future development of iaido.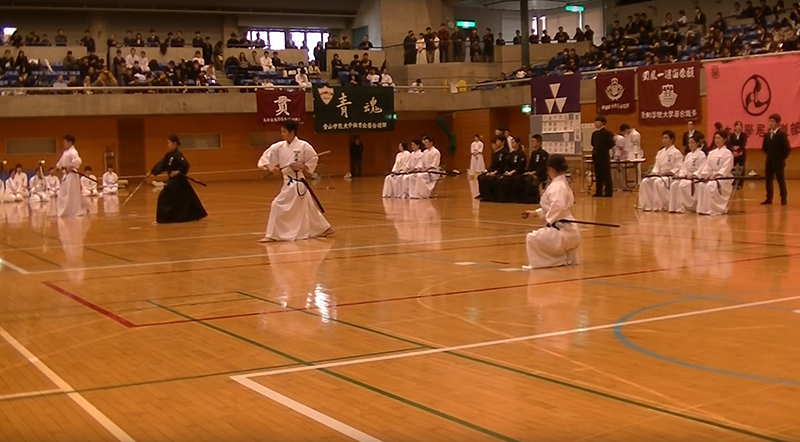 Among the clubs that practice iaido, some group dojos have a particularly long history compared to other regular dojos. For example, the Doshisha University Iaido Club in the Kansai area is nearly its 60th anniversary. In the Kanto area, the Nippon University Iaido Club has been around for over 50 years, and Chuo University Iaido Club was set up in 1950, meaning that it will be nearly 70 years since its foundation. On the other hand, there are more and more clubs starting up, and many iaido clubs at university are less than 10 years old. Currently there are over 30 universities around Japan that have such iaido clubs.
There clubs recruit new students every year. This contributes to the increase in iaido player population. The average player number at university clubs is around 20, but some large clubs have over 50 players. Let's say the average player per year in each university club is 5. This means that every year about 150 new iaido players in their early 20s is entering the working force. Of course, not all of these graduates continue iaido. But recently there are many cases where people take up iaido 10 or 20 years after they graduate, when their life is more stable. Of course some do continue after graduation.
Recently, when you look at the participants at the All Japan Iaido Games, there are more and more players who have come out of university iaido clubs. There are even grade 8 holders and hanshi that are from university iaido.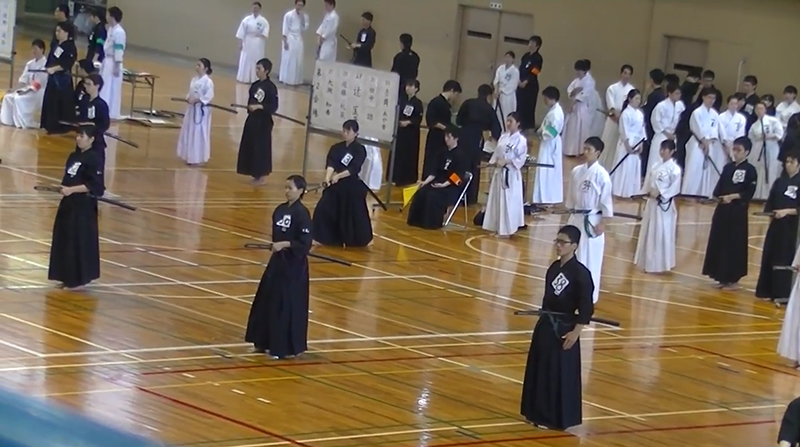 University students attend classes, and find time outside of class to practice. The environment differs among the universities. Clubs that are given a budges from the university can use the gymnasium for a good amount of time. Some clubs even have their a dojo for their exclusive use. Other clubs, who do not have such privileges, rent public gymnasiums.
University students can spend more time practicing than working adults, and they put a lot of energy into their practices. One reason for the energy is because they have "matches" where they can help each other improve.
In Japan, there are many regional open tournaments held each year. University students enter those tournaments to play matches and socialize with other players, but there are also university leagues that are open only to university students.
Most university clubs belong to the All Nippon Kendo Association as well as the All Nippon Student Iaido Association. The All Nippon Student Iaido Association has 3 subgroups which govern 3 areas in Japan – East Japan Student Iaido Association, Tokai Student Iaido Assocation, and West Japan Student Iaido Association. The three associations act independently and are run by student initiative as they host competitions and lectures.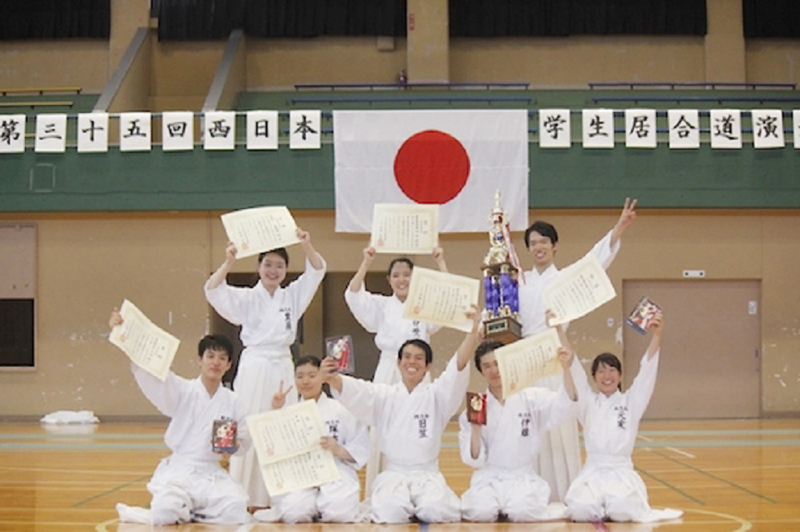 The contents of the competitions differ slightly between association. For example, the East Japan Association hosts a tournament in the fall each year in which a few representatives from each university enter in an individual tournament, and each university also competes in a team tournament with 5 players per team. Both tournaments are held over one day. The top eight players from the individual tournament gain entry into the All Japan Student Iaido Association tournament. In the spring they have a "newcomers" tournament where only grade 2 students can enter.
The West Japan Student Iaido Association holds a team tournament and individual exhibitions for one day before the summer, as well as an individual tournament in the fall where all players participate. The top 8 players from this tournament, too, gain entry into the All Japan games.
The All Japan Student Iaido Games are held once a year in the winter. There is a 5-player-per-team group tournament in which all universities participate, and also an individual tournament where representatives from each association compete. The group tournament has a particularly tense atmosphere, and each match causes even the spectators to sweat. If you have the opportunity, it may be good to go and watch the university league matches which have a completely different atmosphere to regular matches.
The national games are held in Kansai (mostly Kyoto) on the even-numbered years and in Kanto (mostly Tokyo or Chiba) in the odd-numbered years. This year it will be held on December 2 at the gymnasium of Fukakusa Campus of Ryukoku University in Kyoto.
Written by William W Brier(Iaido Renshi 6-dan)